By: Paul Reichert
August 4, 2023
We may not be big time tracks like Kaukauna, Slinger, Madison or LaCrosse, but we love to showcase our local drivers and local divisions every year with big money races here at Tomah-Sparta Speedway.  We cannot forget what could have been for a talent on the rise every June in the Tim Myer Memorial Shootout.  The Hobby Stock division has its day in the sun figuratively and literally with Hobby Fest, the biggest Hobby Stock race in the Midwest coming up soon.  The Six Shooters feel like big deals every July with their annual Six Shooter Mania event.  The Hornet division got to be the stars in the spotlight on this night with their annual Hornet Hustle special.  Thomas Farra drove around Adam Moore just before halfway and survived two yellow flags to score the biggest payday of his career. 
Matthew Heim powered around Brandon McCarthy to take the lead at the start of the 20 lap Hornet Hustle feature for the Command Post Saloon Hornets.  McCarthy would not let Heim get away from his that as McCarthy found new life to catch Heim and power under him to reclaim the lead on lap four.  Heim stuck to his guns on the outside and was able to kick McCarthy out of the lead position on lap five. Adam Moore and his fast race car was quickly coming for Heim and he surged by him to claim the lead position on lap eight.  Right behind him Thomas Farra wasted little time to power under Moore and become the top gun as the field was reaching the mid-race point.  It would not be so easy for Farra as Michael Hennessy, Jr. was looking for a way around Moore for second.  Hennessy, Jr. got tangled up with newcomer Aubrie Leis in turn one on lap 13 to bring out the caution.  Hennessy, Jr. suffered enough damage to his race car to end his quest for a second straight Hornet Hustle win.  Yellow returned a lap after the restart when David Treu, Jr. lost control of his race car on the front straight.  Tristan Drazkowski powered around McCarthy to take over third and try to challenge Moore for second late in the race.  That would not happen as Farra left Moore and Drazkowski to fight over the other podium spots and claimed a huge victory.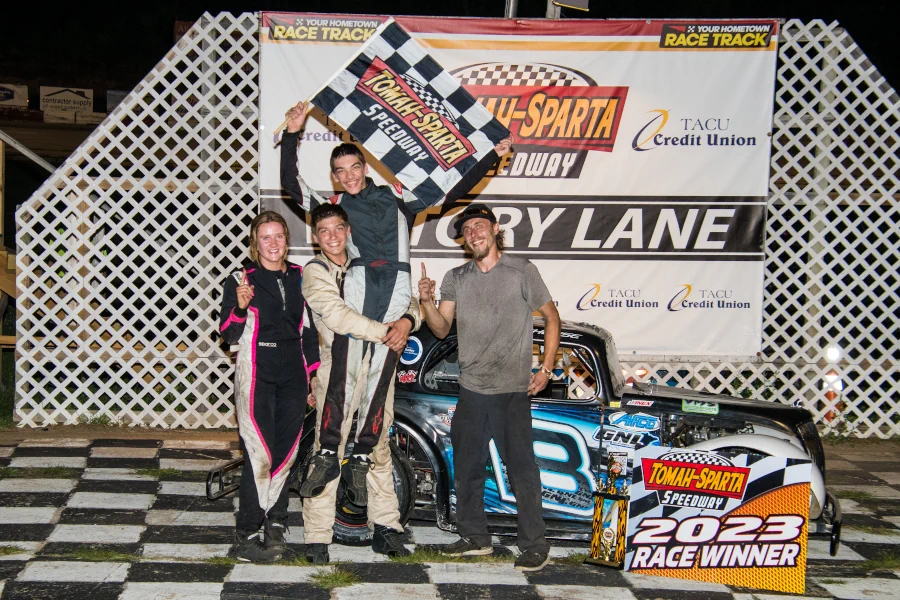 The first INEX Great North Legends feature got off on the wrong foot when Daden Barclay, Ernie Duerr and Cody Gular tangled in turn one.  Elliott Weiler powered by Ayden Brockhouse for the lead on take two of the start.  Yellow reappeared on lap three for Ryan Phillips' spin on the back straight.  As Weiler pulled away with the lead off the restart, Adam Hansen dove to the inside of Brockhouse to move into second.  Point leader Ayrton Brockhouse was making his way through from his eighth starting position as he got around his brother Ayden for third on lap four.  Two laps later Brockhouse advanced a little further up in the field as he took over second from Hansen.  Brockhouse needed only two additional laps to catch and power around Weiler to settle into the lead.  Another driver moving ahead in the field was Mark Anderson, Jr. as he cracked the top three with six laps remaining at the expense of Hansen.  With four laps to go Anderson, Jr. powered around Weiler for second but had a long way to go to chase down Brockhouse.  There would be no catching Brockhouse as he claimed the win and put himself on the doorstep of a championship.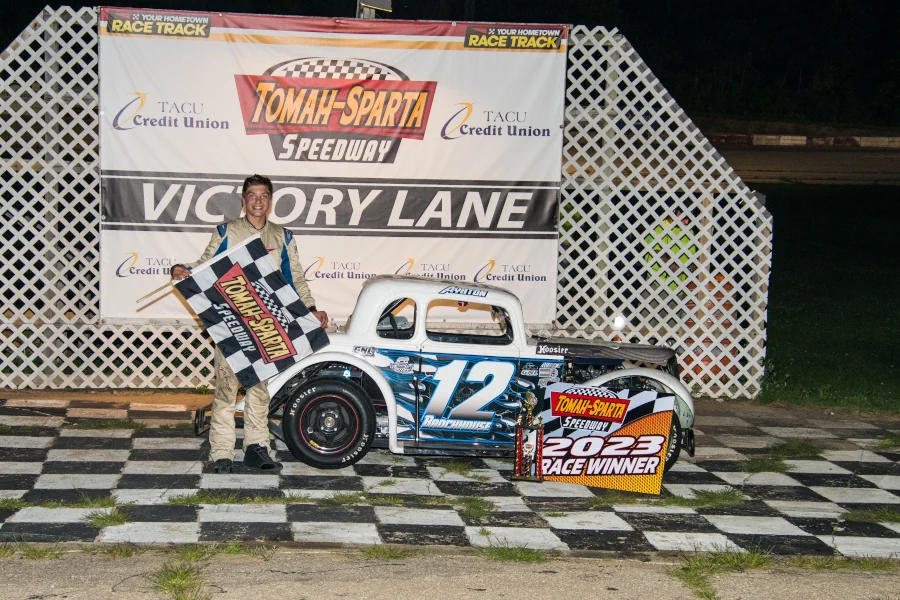 Ayden Brockhouse got the better of Rose Borntrager to take the lead at the start of INEX Great North Legends feature #2.  Brockhouse was able to keep Borntrager is his rear view mirror, but soon would have a familiar foe challenging him.  After the first yellow flew for Ernie Duerr's spin on the back straight on lap seven, brother Ayrton lined up alongside of Ayden for the restart.  Ayden got on the hammer first and pulled away from his brother, leaving Ayrton to fight over second with Borntrager.  Yellow came back out with five laps left for Cody Gular's front straight pirouette. It was the brothers Brockhouse on the front row of the restart, but again Ayden was able to power away and maintain the top spot.  After finally disposing of Borntrager for second with two laps to run, Ayrton took one last chance at the lead.  Ayden stood his ground to see the checkered flag first.  The runner-up effort by Ayrton was good enough to give him the 'Daytomah' championship.  Both brothers celebrated their 1-2 finish proudly in TACU Credit Union Victory Lane.  They dedicated the night to their dad Tim, who just recently had his final treatment for his battle with Stage 3 tonsil cancer.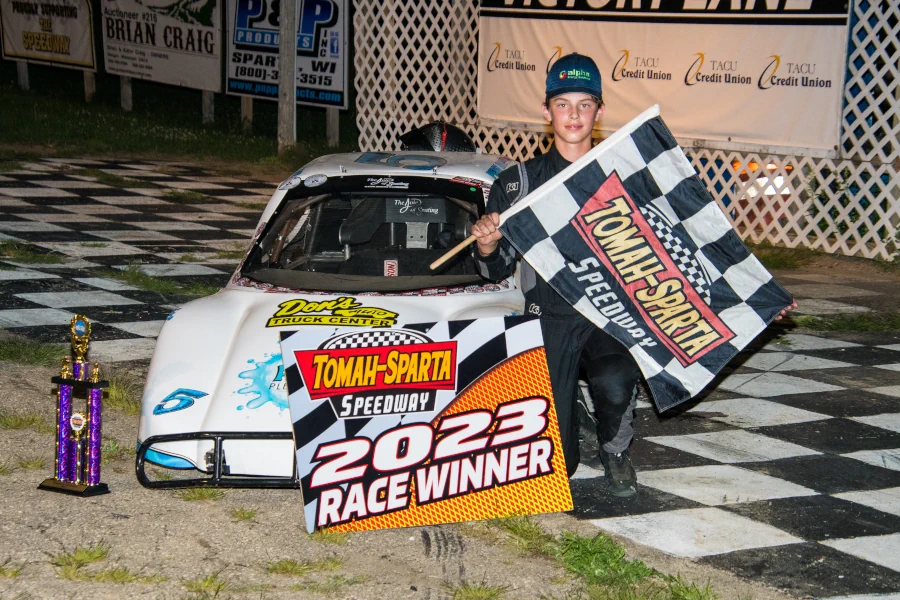 Bentley Thompson was shot out of a cannon at the start of the INEX Bandoleros feature as he went from his sixth starting spot to the lead on the first lap.  Penn Sauter had an equally fast Bandolero as he came from seventh to take over second from Ransom Tate on lap two.  Action slowed on lap three when Brody Thompson and Wesley Barmeister did some synchronized spinning on the back straight.  The restart did not get very far as Tate and Bentley Thompson tangled in turn two and brought their nights to an early end.  Sauter assumed the top spot and he wasted little time to quickly drive away from the pack.  Carter Stein maintained the runner-up spot but he was unable to challenge Sauter for the lead.  Paxton Benz was in third, but the recovering Barmeister caught Benz and passed him with four laps to go to move into third position.  Sauter was on another level this night as he dominated the feature.  Despite that lap three on track incident, Bentley Thompson had enough of a cushion in the points to hold off Stein to claim the 'Daytomah' championship for the Bandoleros.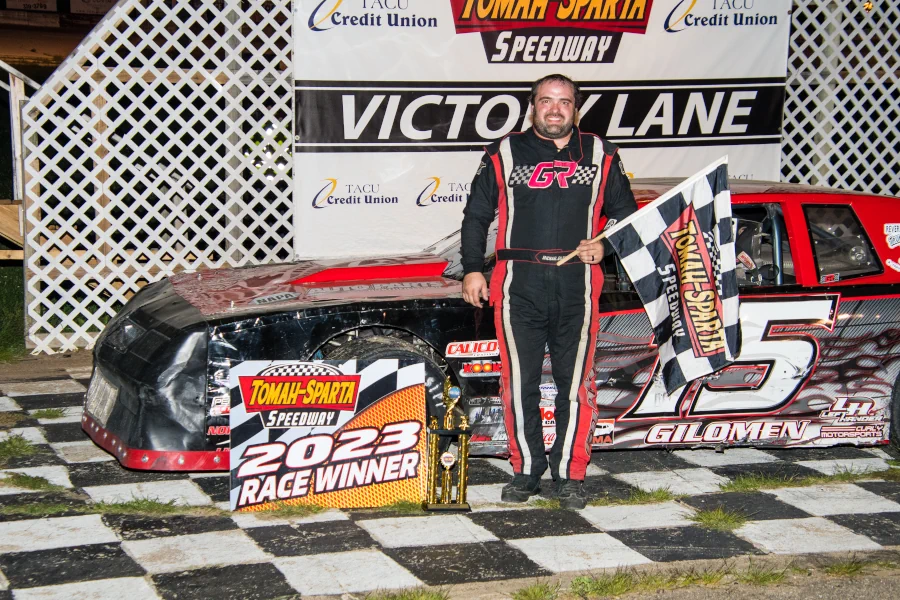 The Zoellick Home Repair and Log Staining Sportsmen feature was led early on by Scott Mahlum as he motored under Troy Dobbratz.  Feature winners Terrence Robinson and Michael Giloman followed Mahlum's lead as they both got by Dobbratz and took over second and third spots by lap three.  On lap four Giloman moved to the outside to surge by Robinson and took over second place.  Giloman quickly caught up to Mahlum as he stuck to the outer lane to power his way into the lead on lap six.  Mark Challet took over third from Robinson just before halfway, but a returning regular of 'Daytomah' began to have an impact on the race.  Jake Schiller was debuting a brand new Chevrolet Camaro race car and it was clicking on all cylinders.  Schiller used the outside groove to get ahead of Challet for third with five laps remaining.  Schiller was doing everything he could to wrestle second away from Mahlum, but sticking to the low line allowed Mahlum to hang on to the position.  Meanwhile there was no answer for Giloman as the Tim Myer Memorial winner scored his second win of the year and strengthened his point lead a little more.
The Clark Powersport of Hillsboro Hobby Stock feature saw Landon Lockington out power Chuck Muller to the lead entering turn one.  Grant Witcraft took advantage of a suddenly slowing Lockington to settle into the top spot on lap two.  As Witcraft began to pull away from the pack, Andy Moore was on the move through the field after starting shotgun.  Moore powered around Muller to take over third on lap three, and a lap later took over second at the expense of rookie leader Seth Gnewikow.  Moore needed only two laps to catch up to Witcraft before charging past him on the outside to take over the lead on lap six.  Gnewikow pulled into the infield at that time with an issue, allowed visiting racers Tucker Bodendorfer and Jarred Sutherland to battle over the number three position.  Bodendorfer slowly began to pull away from Sutherland to maintain third and was trying to make things difficult for Witcraft.  Last year's rookie of the year was able to hold off Bodendorfer to keep a tight grip on second, while Moore left everyone in his wake to claim his third straight feature win and bring his season win total to six.
The drivers will help the kids get ready to go back to school with the very popular Backpack Giveaway promotion happening next Friday, August 11. The race teams will be putting together some fabulous backpacks for the boys and girls to help them be styling and profiling when the new school year starts in just a few weeks. On the track the Modifieds, Hobby Stocks, Hornets, Six Shooters and High School Racing Association will all be in action. It will be the final race of the year for the HSRA as they will crown their first ever 'Daytomah' champion. The kids will also be fine tuning their race cars during the week in preparation for the next running of the Kids' Box Car Races after qualifying. Gates open at 5:00, qualifying goes full bore at 6:15 and the 'edge of your seat' racing competition roars to life at 7:30.
Call the track office at 608-416-1920, visit out web site at tomahspartaspeedway.com or like the track's Facebook page for more information about Tomah-Sparta Speedway and the 2023 schedule of events.
RESULTS
Command Post Saloon Hornets
Hornet Hustle (20 laps): 1. Thomas Farra, 2. Adam Moore, 3. Tristan Drazkowski, 4. Brandon McCarthy, 5. Matthew Heim, 6. Cooper Bodendorfer, 7. Samantha Linnehan, 8. Tristan Finnegan, 9. Austin Albrecht, 10. Josh Finn, 11. Mitchell Rinartz, 12. Josh Schwartz, 13. Matt Drazkowski, 14. Darren Pahl, 15. Jim Hendricks, Sr., 16. Austin Manning, 17. David Treu, Jr., 18. Mike Hennessy, Jr., 19. Aubrie Leis, 20. Lonnie Wood, Sr.
Heat #1 (8 laps): 1. Austin Albrecht, 2. Aubrie Leis, 3. Austin Manning, 4. Mitchell Rinartz, 5. Josh Finn, 6. Jody Halterman, 7. Nick Loesel, 8. Lonnie Wood, Sr., 9. Caitlyn Wood
Heat #2 (8 laps): 1. Tristan Drazkowski, 2. Josh Schwartz, 3. David Treu, Jr., 4. Tristan Finnegan, 5. Darren Pahl, 6. Jim Hendricks, Sr., 7. Matt Drazkowski, 8. Brandon McCarthy, 9. Jordan Finch
Heat #3 (8 laps): 1. Thomas Farra, 2. Mike Hennessy, Jr., 3. Cooper Bodendorfer, 4. Adam Moore, 5. Shawn McCarthy, 6. Matthew Heim, 7. Paul Finch, 8. Samantha Linnehan
Qualifying: 1. Shawn McCarthy 18.482, 2. Paul Finch 18.566, 3. Mike Hennessy, Jr. 18.685, 4. Adam Moore 18.693, 5. Thomas Farra 18.821, 6. Samantha Linnehan 19.073, 7. Cooper Bodendorfer 19.248, 8. Matthew Heim 19.353, 9. Brandon McCarthy 19.467, 10. David Treu, Jr. 19.656, 11. Tristan Finnegan 19.735, 12. Matt Drazkowski 19.817, 13. Jordan Finch 19.851, 14. Josh Schwartz 19.890, 15. Jim Hendricks, Sr. 19.908, 16. Darren Pahl 20.083, 17. Caitlyn Wood 20.147, 18. Mitchell Rinartz 20.568, 19. Josh Finn 20.666, 20. Austin Manning 20.951, 21. Lonnie Wood, Sr. 20.959, 22. Aubrie Leis 21.194, 23. Nick Loesel 23.074, 24. Austin Albrecht 23.456
INEX Great North Legends presented by Legends Direct
Feature #1 (15 laps): 1. Ayrton Brockhouse, 2. Mark Anderson, Jr., 3. Elliott Weiler, 4. Lincoln Cain, 5. Aaron Olson, 6. Rose Borntrager, 7. Ayden Brockhouse, 8. Chase Kimball, 9. Jake Baker, 10. Russ Weiler, 11. Braxton Paul, 12. Travis Paul, 13. Ryan Phillips, 14. Ernie Duerr, 15. Daden Barclay, 16. Adam Hansen, 17. Hunter Hart, 18. Cody Gular
Feature #2 (15 laps): 1. Ayden Brockhouse, 2. Ayrton Brockhouse, 3. Rose Borntrager, 4. Mark Anderson, Jr., 6. Aaron Olson, 7. Lincoln Cain, 8. Adam Hansen, 9. Russ Weiler, 10. Chase Kimball, 11. Jake Baker, 12. Travis Paul, 13. Braxton Paul, 14. Cody Gular, 15. Ernie Duerr, 16. Ryan Phillips, 17. Daden Barclay, 18. Hunter Hart
Qualifying: 1. Ayrton Brockhouse 16.609, 2. Aaron Olson 16.830, 3. Mark Anderson, Jr. 16.874, 4. Lincoln Cain 16.884, 5. Rose Borntrager 16.913, 6. Adam Hansen 16.971, 7. Ayden Brockhouse 16.976, 8. Elliott Weiler 17.012, 9. Ryan Phillips, 17.172, 10. Russ Weiler 17.364, 11. Jake Baker 17.574, 12. Chase Kimball 17.778, 13. Braxton Paul 17.849, 14. Travis Paul 18.295, 15. Hunter Hart 18.417, 16. Daden Barclay 17.787, 17. Ernie Duerr 18.825
INEX Bandoleros presented by Legends Direct
Feature (12 laps): 1. Penn Sauter, 2. Carter Stein, 3. Wesley Barmeister, 4. Paxton Benz, 5. Parker Bodendorfer, 6. Maeson Olson, 7. Ryder Robinson, 8. Bentley Thompson, 9. Ransom Tate, 10. Ethan Jensen, 11. Brody Thompson
Heat #1 (8 laps): 1. Paxton Benz, 2. Maeson Olson, 3. Ryder Robinson, 4. Brody Thompson, 5. Ethan Jensen, 6. Meeya Carpenter, 7. Parker Bodendorfer
Heat #2 (8 laps): 1. Penn Sauter, 2. Bentley Thompson, 3. Wesley Barmeister, 4. Ransom Tate, 5. Carter Stein
Qualifying: 1. Penn Sauter 17.908, 2. Bentley Thompson 18.353, 3. Wesley Barmeister 18.679, 4. Carter Stein, 18.736, 5. Ethan Jensen 19.236, 6. Parker Bodendorfer 19.774, 7. Ryder Robinson 20.105, 8. Brody Thompson 20.377, 9. Meeya Carpenter 33.055
Zoellick Home Repair and Log Staining Sportsmen
Feature (15 laps): 1. Michael Giloman, 2. Scott Mahlum, 3. Jake Schiller, 4. Mark Challet, 5. Terrence Robinson, 6. Troy Dobbratz, 7. Kurt Clapper
Heat #1 (8 laps): 1. Michael Giloman, 2. Scott Mahlum, 3. Terrence Robinson, 4. Mark Challet, 5. Jake Schiller, 6. Troy Dobbratz, 7. Kurt Clapper
Qualifying: 1. Michael Giloman 16.409, 2. Mark Challet 16.880, 3. Terrence Robinson 16.912, 4. Troy Dobbratz 17.059, 5. Scott Mahlum 17.406
Clark Powersport of Hillsboro Hobby Stocks
Feature (15 laps): 1. Andy Moore, 2. Grant Witcraft, 3. Tucker Bodendorfer, 4. Jarred Sutherland, 5. Shelby Lockington, 6. Chuck Muller, 7. Seth Gnewikow, 8. Landon Lockington
Heat #1 (8 laps): 1. Andy Moore, 2. Grant Witcraft, 3. Tucker Bodendorfer, 4. Jarred Sutherland, 5. Landon Lockington, 6. Shelby Lockington, 7. Seth Gnewikow, 8. Chuck Muller
Qualifying: 1. Andy Moore 17.567, 2. Tucker Bodendorfer 17.985, 3. Shelby Lockington 18.208, 4. Jarred Sutherland 18.373, 5. Seth Gnewikow 18.486, 6. Grant Witcraft 18.503, 7. Chuck Muller 18.521, 8. Landon Lockington 19.499