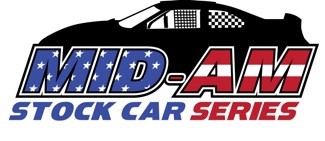 By: Paul Reichert
October 6, 2019
You never want to leave a race early because you never know what can happen, even on the final lap. That was the case in Sunday's Mid-American Stock Car Series feature event during the 50th Oktoberfest Race Weekend at the LaCrosse Speedway. It looked like Dustin Mann would drive away with his first ever series win, but 2017 series champion Dan Gilster chopped away at Mann's lead over the final twelve laps. Gilster passed Mann on the outside through turn four on the final lap to steal the win on Gilster's home track.
Dustin Mann and Dale Lecus, Jr. started on the front row of the 30-lap feature event, with Mann bolting to the lead. Former LaCrosse Sportsmen driver Brad Warthan battled with Shawn Utphall at the start before taking over third on lap three. As Mann tried to open his lead on the field, the lone yellow flag of the race came out on lap four. Scott Luck, Matt Clemens, and Chris Weber all got tangled together and ended up in the turn three wall. Clemens and Luck were able to drive back to the pits, but Weber went back on the hook. For Weber, the end of his Oktoberfest was a far cry from winning the LaCrosse Sportsmen feature on Thursday night and wrapping up the track championship. On the restart, Mann began to pull away from the field once again. Warthan battled with Lecus, Jr. for a couple laps before claiming second on lap six. With several years of racing experience at LaCrosse, Warthan began to slowly reel in Mann for the race lead. Warthan got as close as five car lengths to Mann by lap 13, but then Warthan started to loose ground. Warthan's car either began getting tight or loose.
As Warthan began to loose touch with Mann, Dan Gilster began to slice and dice his way through the field. The five-time LaCrosse Sportsmen champion took fifth away from Bill Prietzel on lap nine, then got around Bobby Gutknecht for fourth on lap 11. Gilster continued advancing through the field as he wrestled third away from Lecus, Jr. on lap 13. Gilster quickly caught up to Warthan and drove by him to take over second with twelve laps to go. It appeared that Mann held an insurmountable lead on Gilster, but over the final twelve laps Gilster would slowly whack away at Mann's advantage. Reinging series champion Ron Vandermeir, Jr., driving Aaron Shelton's car, was in a heated battle over fourth with the Gutknecht family. Nephew Ryan would get around uncle Bobby for fourth on lap 20, while Vandermeir, Jr. moved up to fifth two laps later. As the leaders took the white flag, Gilster was right on Mann's bumper. Gilster moved to the outside of Mann in turn two and pulled even with him entering turn three. Gilster got a run coming out of turn four to power past Mann and claim his third Oktoberfest Mid-American win. Warthan maintained third, while Ryan Gutknecht held off Vandermeir, Jr. for fourth at the finish.
Ron Vandermeir, Jr. now holds a 37 point advantage over Bobby Gutknecht going into the final race of the season. The Mid-American Stock Car Series will return to the Rockford Speedway on Saturday, October 26 to try again and get in the final day of the 54th annual National Short Track Championships. Join us for the 50 lap season finale to see if Ron Vandermeir, Jr. will capture back-to-back series championships.