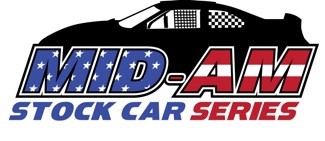 By: Paul Reichert
August 9, 2019
The Mid-American Stock Car Series returned to action Friday night as they made their annual trip to Tomah-Sparta Speedway, the race track run by series owner Greg Oliver. A few of the Sportsmen regulars that race at Tomah on Friday nights joined the Mid-American regulars and put on another terrific show. Despite arriving at the track late and missing out on practice and qualifying, defending series champion Ron Vandermeir, Jr. pulled off an amazing drive from the back to the front. Vandermeir, Jr. took the lead with ten to go to capture his second win of the season.
Andrew Meyerhofer charged past Dale Lecus, Jr. to take the lead early in the 40-lap feature. Something broke or failed on Matt Clemens' car as he ran wide in turn two. Jason Thoma tried to get around on the very high side, not realizing that Clemens was experiencing a problem. Both got together and ended up against the turn two wall to bring out the caution. Clemens would be able to continue, but Thoma's night was done early. Meyerhofer quickly opened up his lead off the restart as he was on a mission to score his first ever win. Cody Clubb began to eat into Meyerhofer's lead. After catching him on lap 11, Clubb drove around Meyerhofer in turn two on lap 12 to be the new leader. Sam Messel, who finished third in the Sportsmen feature at Tomah a few weeks ago, brought out another yellow for her spin in turn one. The restart to did not get very far when Tyler Sauter, Larry Bolster and Jimmy Wilson got tangled up in turn four. After getting unhooked from each other, Bolster went to the pits for repairs and rejoined the field.
Clubb took off on the restart and began putting some distance between himself and the field. On lap 17, everyone started to notice some sparking coming from Clubb's car. The problem was the sway bar had broken on Clubb's car. Despite that, Clubb was able to continue racing and stayed in the lead. Ron Vandermeir, Jr. started in the very back after arriving late, but that did not stop him as he methodically made his way through the field. Vandermeir, Jr. would drive around Meyerhofer to take over the runner-up spot with 16 laps to go. Vandermeir, Jr. began to reel in Clubb and even used lap traffic to catch him. Vandermeir, Jr. drove around Clubb to take the lead with ten laps to go. Vandermeir, Jr. would pull away down the stretch to score the win. Clubb and his broken sway bar came home second, Bobby Gutknecht got by Meyerhofer with two to go to take third, and fast qualifier Devin Schimdt ran fifth. After a short break, the championship push begins for the Mid-American Stock Car Series. Their next race will be a part of the 54tn annual National Short Track Championships at the Rockford Speedway on Sunday, September 29th.