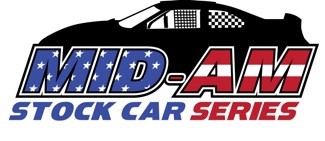 By: Paul Reichert
June 16, 2019
The Weyer name is synonymous with racing in southeastern Wisconsin. Dale ran Slinger when it was first a dirt track, and later a pavement track. Ron has done SCCA racing for many years, and even competed with the Mid-American Stock Car Series on occasion. Ron brought out his family's Mid-American race car to the Milwaukee Mile for the big Father's Day racing show. Surviving some wild action late in the going, Weyer pulled into victory lane with his first ever series win in the Vercauteren Memorial 20.
Luke Baldwin and Jason Thoma led the field, dominated by sportsmen-style cars, to the green flag in the first Mid-American Stock Car Series race at the Milwaukee Mile since 2014. Thoma quickly got around Baldwin and began pulling away from the field. By lap six, Andrew Meyerhofer would start to whittle away at Thoma's advantage. Meyerhofer blew right past Thoma to take over the lead on lap eight, and so did 'Rambo' Rick Corso. The first yellow of the race flew just before the halfway point of the race as the battle for the lead got a little physical. Corso got loose entering turn three and he collided with Meyerhofer, who spun and hit the turn four wall. On the restart, newcomer Aaron Shelton would be in charge of the field. As Shelton tried to open up a lead, two wiley veterans fought over second place. Mark Pluer got around Rick Tackman, Jr. for second on lap 12 after they fought tooth and nail for a few laps. Then the action really got crazy in the Vercauteren Memorial.
With four laps to go, Pluer got into the rear of Shelton's car coming out of turn two. Shelton started sliding down the back straight. It looked like he saved the car, but he started sliding again halfway down the back straight. In the ensuing chaos, Bill Prietzel made contact with Ron Vandermier, Jr. The reigning series champion rolled over on his roof briefly and lost his fuel cell, but he got all four wheels back on the racing surface. Both drivers checked out A-OK after that wild incident. With Pluer going to the rear for starting that chaos, Ron Weyer was now the new leader. During the final four lap shootout, Weyer would be challenged and pressured by Scott Ascher. As Weyer pulled away to the victory in his first Mid-American race since 2013, Rick Corso got around Ascher on the final lap to take second. Rick Tackman, Jr. was scored in fourth, and Steve Blair rounded out the top five. The Mid-American Stock Car Series will do a quick turn-around, going from the big mile track at Milwaukee to the half-mile at Hawkeye Downs Speedway in Cedar Rapids, Iowa on Friday, June 21.