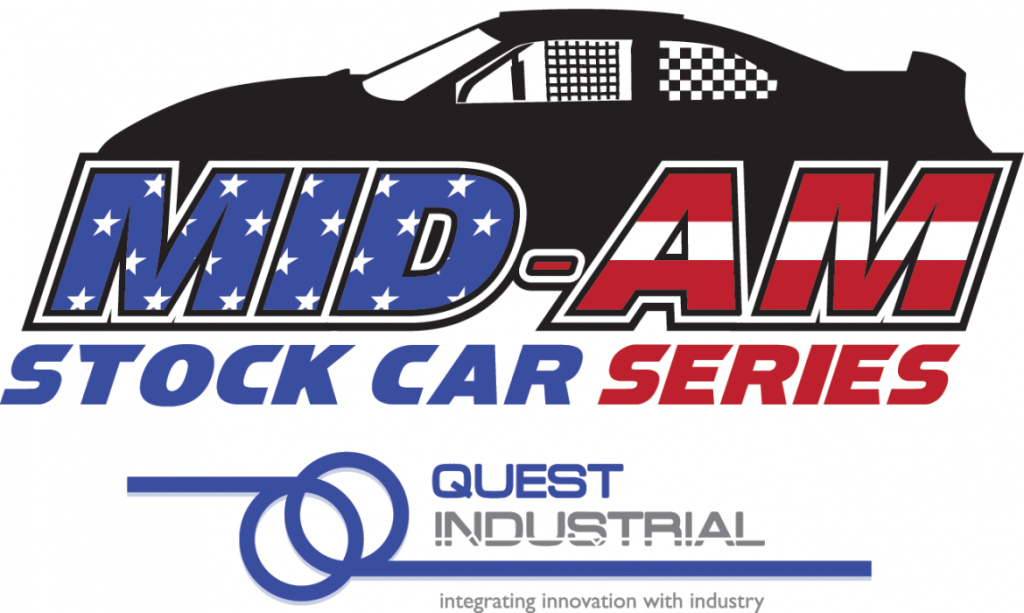 By: Eric Huenefeld
Lyle Nowak rode the roller coaster of emotion on Sunday afternoon at Rockford Speedway.
After sustaining heavy right-front damage in a Heat Race incident, it was unclear if Nowak would even race Sunday's 50 lap Quest Industrial Mid American Stock Car Series feature race, the opening event of the 2017 season and the first event of the 25th season of Mid American Stock Car Series competition.
Yet Nowak and crew were able to get the car to the starting grid without a hood or right-front fender. Despite not being the best appearing car in the field, Nowak was able to muscle his car around at the front of the field all day long, coming in a distant second to Dusty Mann at the checkered flag.
However, Mann's car was disqualified in post-race inspection, which handed the win to Nowak, who held off Fast Qualifier Dan Gilster for what appeared to be second place at the finish. The post-race reversal gave Nowak a much deserved happy ending to what started as a rough afternoon, while also creating a great start to 2017 for Gilster, who started the race from 12th place and made his way into the top three by lap five.
Following Nowak and Gilster in the running order were three former Series champions, Rick Corso, Mark Pluer and Bill Prietzel, who were credited with third, fourth and fifth in the final order. Rookie of the Year contender Ron Vandemeir Jr came home in sixth.
The next event on the Mid-American Stock Car Series schedule is Sunday, May 7 at Madison International Speedway for the 9th Annual Joe Shear Classic. For more information on the Quest Indusrtial Mid-American Stock Car Series got to www.midamericanracing.com.
Results for April 23 Rockford Speedway Spring Classic
Qualifying
1.Dan Gilster 2. Bill Prietzel 3. Ron Vandermier Jr. 4. Mark Pluer 5. Bobby Gutknecht 6. Rick Tackman Jr. 7. Taylor Dawson 8. Cody Clubb 9. Kenny Joosten 10. Billy Rud 11. Lyle Nowak 12. Ethan Ross 13. Rick Corso 14. Landry Potter 15. Tim Fulford 16. Jeff Wakeman DQ Dusty Mann
Heat 1
1.Rick Corso 2. Tim Fulford 3. Kenny Joosten 4. Ethan Ross 5. Billy Rud 6. Jeff Wakeman 7. Lyle Nowak
Heat 2
1.Rick Tackman Jr. 2. Mark Pluer 3. Bobby Gutknecht 4. Bill Prietzel 5. Ron Vandermeir 6. Dan Gilster 7. Taylor Dawson 8. Cody Clubb DQ Dusty Mann
Feature 50 laps.
1.Lyle Nowak 2. Dan Gilster 3. Rick Corso 4. Mark Pluer 5. Bill Prietzel 6. Ron Vandermeir 7. Bobby Gutknecht 8. Kenny Joosten 9. Rick Tackman Jr. 10. Cody Clubb 11. Billy Rud 12. Taylor Dawson 13. Ethan Ross 14. Jeff Wakeman 15. Tim Fulford 16. Landry Potter DQ Dusty Mann